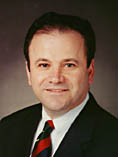 N. Peter Antone
Antone Capital Management was founded by N. Peter Antone, an attorney who graduated from the Detroit College of Law, Summa Cum Laude, in 1985. In addition to practicing law, he has been extensively studying various theories of investment, finance, and capital management for the last 10 years. Learning from numerous sources, books, and mistakes, he has applied the principles of his conclusions to his own finances and to those of his immediate relatives and friends. He has decided to expand his service to the general public by establishing this firm. In his law practice, Mr. Antone has been rated by the Martindale-Hubbell Law Directory (a highly regarded lawyer-ranking company) as an AV, which is the highest possible rating given to an attorney for both competence and adherence to ethical standards. He will utilize the same diligence and ethics in his investment advisory service as he does in his law practice.
In addition to studying law, Mr. Antone has studied, done graduate work, and performed work related to the fields of business administration, economics, finance, and had managed a consulting firm prior to his law career. He is also an adjunct professor at the Michigan State University College of Law.
Mr. Antone has worked and studied in the U.S., Europe, and the Middle East. Prior to attending law school, Mr. Antone obtained a Bachelorís Degree with the Highest Distinction, as well as a Masterís Degree in Engineering.
Mr. Antone believes in the mission of this service. He will treat every client the same way that he would wish to be treated himself.
---